The Boating Blazer or Rowing Blazer can be traced back to the 1850's where they were first associated with the sport they are named after. In fact the name 'Blazer' can be attributed to the jacket's first worn by Lady Margaret Boat Club, Cambridge, these coats were 'blazing red' in colour and the inspiration behind the name 'Blazer'.
These days, Boating Blazers come in many shapes and colours, from eye catching stripes to jackets trimmed in club colours. Many events like the Oxford and Cambridge Boat Race and Henley Regatta, would not be the same without these vibrant statements of fashion.
"The clouds may be grey over head, but the peacock colours of a rowing blazer brings plenty of blinding brilliance to banks of the river, after all 'Blazers maketh the man'."
A sartorial favourite of the traditional Englishman (just ask Prince Charles).
We supply a variety of Boating and Sports clubs with these blazers, which may be plain, trimmed or striped and are usually made in a wool and polyester blend or a wool flannel. We also supply all college boat clubs of the University of Oxford, with their Rowing Blazer's and are privileged to supply the University of Oxford 1st VIII crew with their Blues Blazers.
We are also immensely proud to be the authorised and preferred supplier of Club Blazers to the world famous Leander Club.
To compliment our blazers we can also supply scarves or wraps made in any design of club colours and size and also ties, bow ties, cravats, hatbands, cummerbunds, cufflinks and blazer badges.
Classic Boating Style
3 Button single breasted
3 Patch pockets, breast pocket embroidered with club crest
No vents i.e. plain back
1 – 4  cuff buttons
Trimmed with club colours ,Fully lined (100% viscose)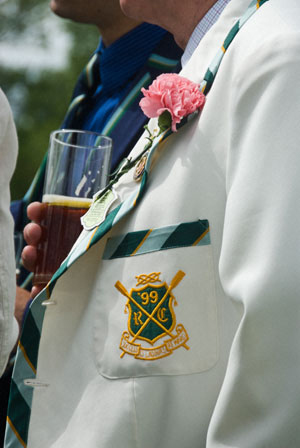 Prices range from £199.99 to £350.00  including VAT.
The glittering jewel in the crown of the British Summer social calendar for rowers around the world is a festival of striped blazers in every colour from conservative cream to lurid pink along with hats and ties in wild states of disarray.
Blazers in different colours mark out which club or country you might row or have rowed for. The decorative styles of blazers also tell their own tales about the wearer's success.
The number of stripes on the blazer cuff of rowers from Oriel College Oxford indicates whether you row in the top crew or are a member of the committee.
Many oarsmen follow the tradition of preserving the grime and stains accumulated during a rowing career as badges of honour.
For former competitors who no longer row, the blazer makes it easier for them to identify members of their old club, meet up with friends and rivals on the banks of the river.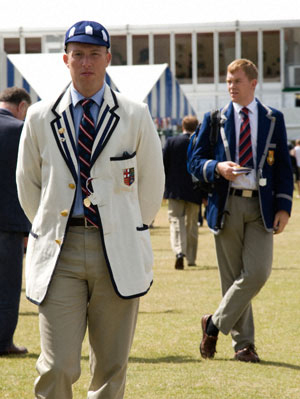 "I went through the pain and sweat with my crew and this is the day of the year that I can wear this blazer and catch up with them", said a famous Londoner.
Please allow enough time when ordering a blazer before an important event. Cloth supply and production can take up to 6–8 weeks during busy periods; of course this will change with time of year and quantity.
With every blazer being different and personal we advise a consultation, where we can discuss your requirements and provide a quotation.
AND DON'T FORGET we supply all Oxford University College Hat Bands @ £9.99