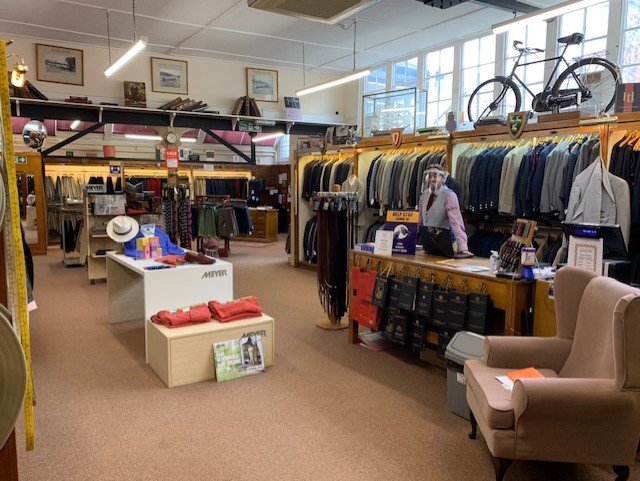 Believe it or not, Walters of Oxford was one of the first academic stores to have an online presence.  Since that day we are ready to upgrade and launch site number 5.
Whats different?  We will be offering our menswear ranges from in store allowing you to purchase your quality wardrobe from shoes to nightwear from the comfort of your home.  We will miss you in person though and remain always ready to advise so if you are not sure of buying on line, your sizing or the feel or quality of a garment please continue to pick up the phone and we can talk you through our products.

Our Weddings and formalwear hire  pages have exploded with colours and suits available for purchase and hire so do take a look at those pages.
Is what you have on the site the same as what you have in store?   Simply put …. NO! Our regular customers will know that we have a huge suit department full of wonderful tailored jackets and suits so if there is something you don't see on the site, please pick up the phone – it is likely we have what you are looking for in store.  01865 241848.
What else can I purchase or order on the site?  We will continue to offer our academic wear, sporting blazers, college and club regalia on line.  If there is something we are missing that you require, please drop us a line and we will endeavour to bring on line ASAP for you.
Please do feedback your thoughts and let us know of any glitches you may find.  We accept that in marrying the traditional with the modern there is going to be an element of trial and error so we are grateful for your help in making this site a success for all.
A final word "Thank you for your continued support and custom of Walters – this wonderful shop full of history, nested in Turl Street, Oxford.  We are a family run independent retailer with the key aim of providing a warm welcome and service beyond expectation.  Your custom helps us achieve that and remain steadfast on our ever decreasing High Streets so thank you.  I must also thank Rareform New Media for designing and hosting our site and all our staff who have worked beyond expectation adding product and content to this site – Ben Salmon, Daniel Lester, Emma Brownsea and Laura Greenaway , and all our staff testing and contributing with their ideas – this wouldn't have happened without you all".  Lisa Venables, Managing Director.