It is so often the case that, when it comes to this time of year, we tend to heave a sigh of frustration and slight panic, when we realise that, once again, we have got to purchase some well-meaning gifts for the menfolk amongst our families and friends. Here at Walters, we sympathise and want to make that process an enjoyable and easy one! Maybe you want to purchase something useful for the intended recipient, or perhaps you would like to spoil them with a luxury item that they would not normally purchase. Well, whatever your preference, we think we have it covered and would love to share what we have in store for you.
So, with that in mind, here's a quick guide to whet your appetite before you come and see us to make those all-important purchases.
Quality or quantity?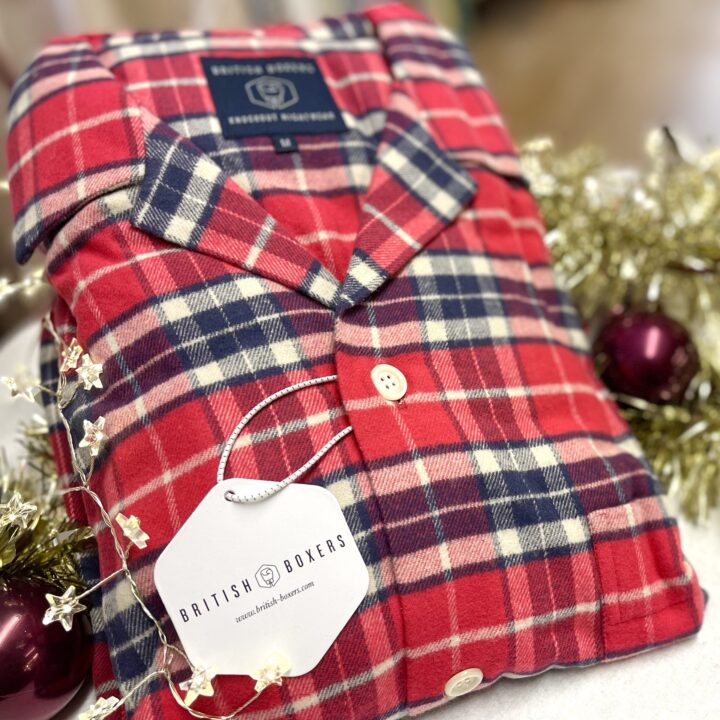 Subconsciously, we sometimes think that being able to give our loved ones lots of different gifts is what they enjoy receiving, but what if we were to change our mindset and buy a few quality items instead? At Walters, we have some very beautiful items that will put a beaming smile on any face, such as our beautiful sustainable Swole Panda scarves, made from bamboo and which is a hot contestant for the far more expensive cashmere, but for a fraction of the price! Or perhaps your gents would fall in love with our brushed cotton tartan pyjama set, with the option of a night shirt or dressing gown to complete the gift. We have a wide range to choose from. Perhaps you want to splash out on some new cologne and feel drawn towards our lovely gift set of 4 in an attractive gift box, which will surely be received with great gusto! There is so much more we could mention, such as our extensive Barbour collection, including lambswool and cashmere scarves. Or how about some luxury deerskin gloves made from real leather and a premium wool mix inner, keeping those hands warm for that post-Christmas dinner walk and the days beyond? These are all long lasting gifts that will be remembered year after year, as they are used and become well loved.
Timeless classics or new and trendy?
We like to remain current and contemporary, and so we have carefully thought through how we can offer both classic gifts that that are timeless, but at the same time we also pride ourselves in keeping up with the latest trends. We think there are a few things that will never fall by the wayside, such as the classic English Country gents flat cap -alternatively we can offer the 8 piece "Baker Boy" style which we can thank Peaky Blinders for the increased sales of these, along with the Failsworth caps and the beautiful traditional fedora style hats that we also have to offer, along with many others. If you are catering for the man, who likes to wear a bold statement shirt and tie at Christmas, we have some fabulous shirts with various designs, some festive, some bold, and even a Claudio Lugli for the musicians among you, along with many of their other wonderful designs! Our Olymp range is well worth a browse, and we are stocking some of our favourites from their tailored fit range, Level Five, which will look fabulous for dressing up for dinner parties, teamed with chinos, or worn as a business shirt, or perhaps every day!
Luxury or Functional?
None of us can deny that we love a bit of luxury, but conversely, we also probably prefer something that is functional and can be used daily too. We definitely have this covered for you at Walters and perhaps you would like to indulge in both?! Most of us love a good, warm drink to be consumed 'on the go', and thanks to our Barbour travel mug and our stainless-steel, tartan-patterned Thermos flask with its push down quick release mechanism, we have something for everyone. Or how about our gorgeous selection of cufflinks that could be coupled with one of our beautifully made shirts? We have a variety of sets to choose from, whether it's novelty or classic you are after, come and have a look for yourselves! We also have some wonderful C-Secure leather card holders that are one of the best RFID protection wallets on the market. They come in a variety of beautiful colours and must be seen and held in your very own hands in order for you to appreciate the craftsmanship that has gone into creating such a lovely item. There is so much else we could mention, but why not visit us in store to see for yourself?!
Stocking fillers
It can be all too easy to quickly fill a stocking in a bit of a panic and feeling like we have made some ill-informed decisions. Well, at Walters we have come to your rescue with some ideas that we think you will love. First up, we have the classic 'go to' stocking filler that you can guarantee MOST gents will receive this Christmas… socks! We believe that even the purchase of a pair of socks can require some thought, and so we think you will love our Swole Panda bamboo fox socks which come in many patterns, the penguin socks being our favourite. They come with a reinforced heel and toe, which means they are longer lasting and the bamboo fibres makes them thermo regulating, meaning your loved one will feel warm in winter and cool in summer – isn't that genius?! We can feel you already getting a little excited about socks! To complete the look, we have our beautiful range of bamboo boxers, also available in different patterns. Next up, check out our stunning range of Van Buck formal accessories which are guaranteed to please. We have some stunning ties and hankies made from Liberty cotton, which will slot perfectly into those lovely stockings. Our much-loved Strawberry Thief is also up for the taking in two different colour options. We also have our novelty ties – ducks, cars, planes, the traditional foxes and many more patterns, alongside our self-tie / pre tied bow ties that can be purchased individually or together, complete with a lovely gift box, if required, for a small additional charge of £2.
Listed above are just a few of the many wonderful gifts we have here at Walters of Oxford. We really do endorse the sentiment that 'seeing is believing' and that the best purchases are made once the gift has been seen and handled personally. So why not head to the shop now and get all your Christmas shopping done under one roof and alleviate all the stress involved in shopping for the gents in your family? Our team of passionate, friendly and helpful staff awaits you!