Pampeano Black Folio MacBook Pro 13″ Laptop Case
If you're seeking a case that's elegant and professional, as well as practical, then this case delivers the complete package. Turning attention away from the leather and inside the case reveals that plenty of consideration has also been given to the 100% pure suede lining. Creating a smooth and gentle touch against your valuable MacBook, this provides added assurance for protection when on the move. Such is the attention to detail, the suede is even treated to a pale blue look that's reminiscent of the Argentine flag.
The rather sleek design differs from its smaller counterparts in our iPad Case Collection in that this model comes with a metal zip running along the top. Bringing added reassurance that your prized possession won't accidentally slip out, the case snugly accommodates either a 13inch MacBook Pro (from 2016 models) or 12.9inch iPad Pro along with any A4 documents.
Presented with a rather sophisticated black leather finish, it's the colorful and beautifully hand stitched pampa diamonds which help truly define this exceptional case. This high quality finish ensures a personal touch to your case and a finish that can't be replicated by machine as it uses traditional woven techniques practiced by generations of artisans in South America.
Inspired by the mountain peaks of the Andes Mountains, this Aztec design features across our pampeano collection to create an iconic and instantly recognisable look.
£95.00 inc. VAT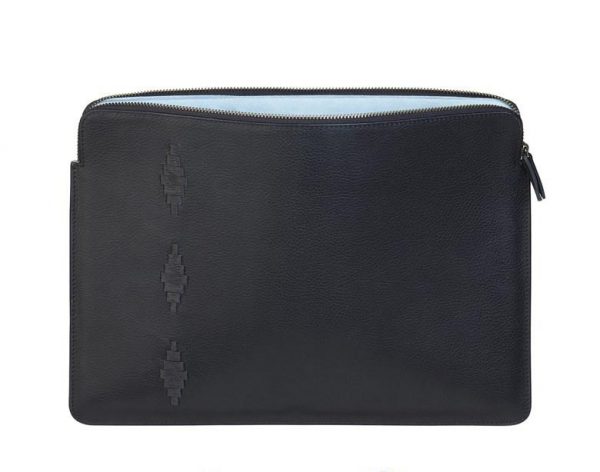 Click to View Gallery (1)