A Brief History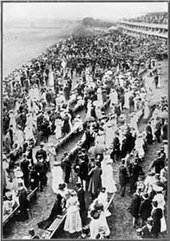 Royal Ascot is world-famous for the head turning hats, extravagant gowns and sharply dressed gentlemen. For many, it is the pinnacle of their summer social calendar, as it attracts a great many of the world's finest racehorses and has a rich and varied history. It was first founded in 1711 by Queen Anne, an equestrian sports lover. History records that she had been out riding at Windsor Castle when she came across an area of land that had, in her eyes, racecourse potential, and in her words, looked "ideal for horses to gallop at full stretch". It was subsequently purchased and prepared for racing. The first race, named Her Majesty's Plate – worth 100 guineas, was hosted that same year on August 11th!
Originally there was no dress code required for either jockey or spectator, but this began to cause confusion when trying to ascertain the winners of the race, so jockeys were required to wear the colours of their owners.
The first stipulations of a strict dress code for spectators are traced back to the early 19th century, when men were required to wear waistcoats, cravats and pantaloons. This idea was influenced by a close friend of the Prince Regent, named Beau Brummel, who decreed men of elegance should be dressed in such a manner.
Royal Ascot Dress code
There are four enclosures at Royal Ascot, three of which are open to the public. The fourth and most prestigious is The Royal Enclosure, where access is very strictly limited and there are certain requirements to be fulfilled in order to be able to attend. The following outlines what is required for the dress code and is broken down into individual enclosures.
The Royal Enclosure
At Walters we have supplied Royal Ascot attire for over 150 years and take great pride in being able to fully equip gentlemen with the finest morning dress, fit for the Royal Enclosure. The dress code states that a man must wear:
A black, grey or navy morning dress
A grey or black

top hat

(these may not be decorated or customised in any way)
A

waistcoat

(only very discreet or patriotic patterns are seen as acceptable)
A

tie

(cravats and bow ties not permitted)
Black

shoes

and socks
At Walters, all our clothing has been individually and lovingly sourced by our expert staff, and great pride has been taken to ensure that the outfit that you choose, will make you feel your best as you attend such a prestigious event. Walters can supply you with the traditional black, grey or navy morning wear, or should you prefer, we have beautiful, contemporary, lightweight tailcoats available, that are in line with The Royal Ascot dress code.
In addition, we have our high shine patent black shoes available for purchase or hire, and not forgetting the iconic top hat, of which we have in both black and grey wool.
Our team of very experienced and helpful staff look forward to serving you in store. Please see our website or contact us directly for our individual garments or package offers that are available.
Please note, we respectfully request that a minimum of four weeks' notice is required to make sure your outfit is ready. However, in the event that you do need it sooner, please do not hesitate to contact us and we will pull out all the stops to ensure you are 'Ascot approved'! Please contact us for any further guidance or help sales@walters-oxford.co.uk or 01865 241848.
The Queen Anne Enclosure
This is Royal Ascot's premiere public enclosure, and whilst it still has strict requirements for its attendees, they are less formal than that of the Royal Enclosure.
Gentlemen are required to wear a full-length suit which has matching jacket and trousers, both in colour and pattern.
It is also kindly requested that;
A

collared shirt

should be worn
A tie should be worn at all times (bow ties and cravats are not acceptable)
Socks that cover the ankle must be worn
Please note, jeans, chinos or trainers are not permitted in the Queen Anne Enclosure.
Once again, you will not be disappointed as Walters is able to cover all the bases with the requirements for this enclosure. We have such a beautiful range of tweed, traditional and contemporary suits available, which have all been made with such dedication and care. From a Hadley navy wool patterned suit, to a lightweight camel coloured mohair suit, we think you will struggle to choose from such a fine array of workmanship! These suits all come as a 3 piece, if required, should you wish to just enhance that sharp Ascot look. We provide the full package, with our 'standard wing' or 'Marcella shirt' to complete the outfit.
The Village Enclosure
The Village Enclosure is similar to that of The Queen Anne Enclosure, in that gentlemen are still required to wear:
Full-length jacket and trousers
A tie (no bow ties or cravats)
Socks covering the ankles
Jeans or trainers are not permitted.
Although there is still a formal dress code for this enclosure, there is more flexibility in that the attendees may wear a different pair of trousers to complement their jacket, for example a tartan pattern. It is not required to be a matching suit.
At Walters we have a range of stunning jackets available, with brands such as Brook Taverner, Magee, and Carl Gross to name a few. These can be teamed up with a pair of our smart Meyer slim fit or cotton chinos, with a few colour options available.
If you are looking to accessorise your outfit with some eye-catching, quality socks, we have a fabulous range of bamboo socks, from our timeless Swole Panda ribbed socks in 6 different colours, to our novelty socks with patterns to suit all personalities.
The Windsor Enclosure
There is no official dress code for the Windsor Enclosure, which offers a more informal and relaxed atmosphere. However, gentlemen are encouraged to wear 'smart daywear' which would consist of jacket, collared shirt and full-length trousers. There is plenty of leeway here, and alongside our range of blazers and trousers available at Walters, we also have a fantastic range of shirts that will be sure to catch the eye or raise a brow! From our Claudio Lugli range, which offers a fine array of designs to suit different personalities, to the more classical Olymp shirts which come in slim fit, modern fit and a range of collar cuts. Whatever your preference, we feel sure that at Walters, whatever you purchase, we will make you feel confident and befitting of the occasion.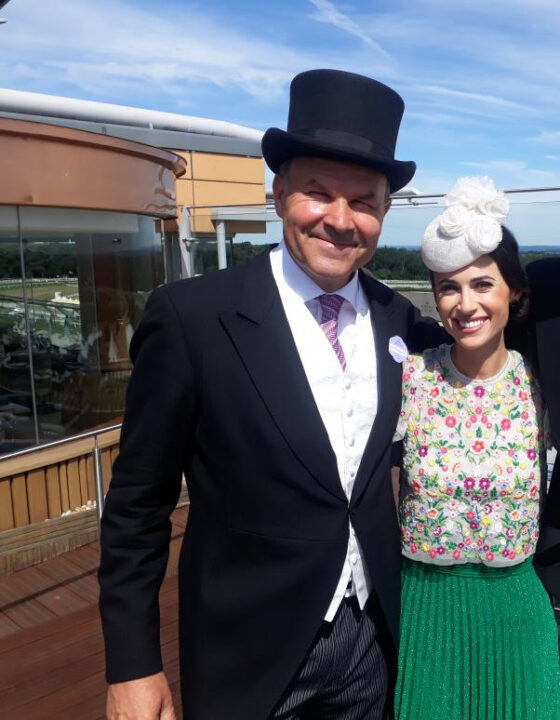 Our racing shopper
Do check out some of our past posts to see one of our favourite racing commentators purchasing his made to measure suit from Walters and looking dapper at the 2023 Grand National.
We look forward to seeing you in store or speaking with you via phone call or corresponding by email to get you ready for that much anticipated day on your social calendar!
PLEASE NOTE – Some morning tails require a minimum of two weeks' notice when ordering.