Here at Walters, we think it is important to understand the history behind rowing blazers, where the sartorial term originates from, and when it all began!
Where did the rowing blazer originate from?
The first 'Boating' or 'Rowing' Blazers were worn by the Lady Margaret Boat Club (the rowing club of St Johns college, Cambridge) in 1825. They pioneered the 'blazing red' jacket, which, as the name suggests, was bright red! They were seen as a basic necessity to keep the rowers warm during the brisk early morning training on the water, owing to the thick wool flannel cloth used to make them. However, there are also historic stories that report that prior to this the crew of a ship named the HMS Blazer wore blue and white striped jackets which they referred to as their 'blazers'. It is since then that the rowers started wearing the loose-fitting version of the jacket which we now call 'blazers'.
What did the rowing blazer look like back then compared to now?
The jackets / blazers were often embellished with very colourful, extravagant patterns or eye-catching stripes and each design was unique to its rowing club, with some having jackets trimmed with their clubs' colours. This allowed spectators on shore to identify which team was which. Rowers soon started wearing their blazers on dry land too, particularly around other rowers. Over time as training kit began to improve and modernise, the jacket / blazer remained a symbol of athletic accomplishment amongst the colleges/clubs.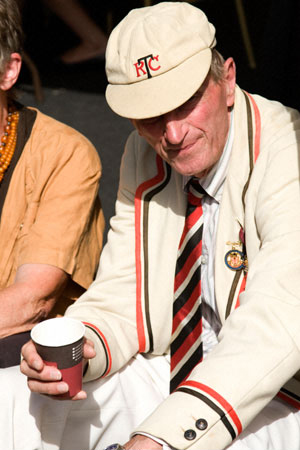 Where would rowing blazers be worn?
Nowadays rowing blazers, which are such a vibrant statement of fashion and rowing achievement, are worn with immense pride as it will often signify dedication, hard work and oarsmanship, and is most notably linked with well-known prestigious events such as the Oxford and Cambridge Boat Race and the Henley Royal Regatta. The Henley Royal Regatta is particularly famous and attracts rowing athletes from all over the world, where they battle it out on the river Thames to win the highly prized and much coveted Rowing trophies.
The blazer, which has come from such humble beginnings, is now showcased at these annual events which are the highlight of the Rowing and social calendar worldwide!
How are the blazers at Walters made?
Walters & Co blazers are made to the highest standards of British tailoring and each one is made specifically to the customers' requirements depending on which club or country they row or have rowed for. They are made in a variety of different clothes, achieving different price points i.e., poly/viscose, wool rich poly blend, or in worsted or wool flannel, and are made to last a lifetime (size permitting), as an accolade to the time spent serving club and country in the rowing world. Some oarsmen and women like to preserve the grime and stains accumulated (never cleaning them) on their blazers during their rowing careers as badges of honour, each mark / stain holding a story behind it!
Amongst the many rowing Clubs we supply in the UK and across the world we are especially honoured to be authorised as the preferred supplier of Club Blazers to the world-famous Leander Club in Henley on Thames.
What do we have available at Walters?
Our rowing blazers are the 'Classic Boating Style' and are trimmed with club colours. They are a fully lined, 3 buttoned, single-breasted with 3 patch pockets, with the breast pocket being embroidered with the club crest. They have 1-4 cuff buttons and are plain backed with no vents. We can also complement the blazer with scarves or wraps made in any size and design, in club colours, all made here at Walters & Co. We also supply club ties, bow ties, cravats, hatbands, cummerbunds, cufflinks and blazer badges. Please order your blazer 6-8 weeks in advance of when you require it to allow for cloth supply and production.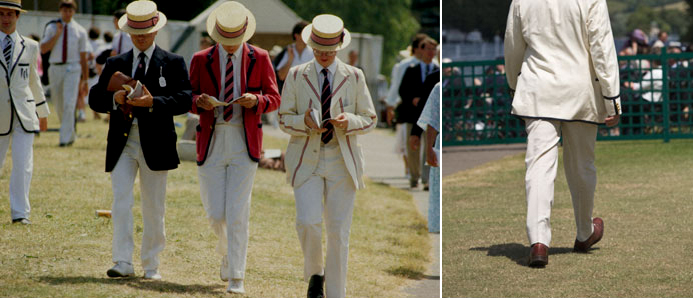 Who wears rowing blazers?
Rowing blazers can tell their own story. The decorative styles on a blazer can speak to the trained eye of its wearer's success. Stripes on the cuff of a blazer will indicate whether they row in the top crew or are simply a club member or on the committee. For former competitors, it means they can identify members of their old club and meet up with friends (and rivals!) on the riverbank for a social and enjoy the events on dry land. Regardless of the accomplishments required to wear these unique garments, any rower doing so, alongside their crew, showcases their club and country with a sense of pride and unity, for whom they have trained so hard to represent.