At Walters we take pride in being one of the leading stockists of formal wear in Oxford. We have clothing which covers all the important formal events, and most importantly everything you need for a wedding or your very Own Big Day!
We think that the best recommendation that can be given is by word of mouth, and many of our customers have either used our services before or, have family and friends who recommended us. We take this as a great compliment and value this custom as a testament to the quality of our clothing and the service we provide!
In 2022 our formal hire department was buzzing as we were all able to get back to normal following the COVID-19 pandemic, with weddings and events finally allowed to take place again. This brought such a boost to morale here at Walters, as we could return to what we love best.
What can we offer for formal occasions?
Whether you hope to attend a college party, a formal dinner, Royal Ascot, Cheltenham Races, or a wedding, we believe you will fall in love with our beautifully crafted formalwear, white tie and tails, traditional morning wear or our range of tweed suits for that special day that will make you feel a million dollars. We also offer accessories to complete the look, such as black shoes, top hats, ties, and waistcoats. Whatever you need, put your mind at rest by visiting us in-store here at Walters!
What does our wedding range offer?
At Walters we are constantly keeping track of the latest fashions and trends, whilst maintaining quality of clothing and professionalism. The latest trend in wedding suits is tweed, and these are available as 3 piece in various colours, or indeed how about a tweed waistcoat to complement our various other suit styles and fabrics, in our comprehensive selection. We are proud to also offer Highland wear (various tartans and jacket styles available) for those in need of full Scottish attire for a wedding or dinner.
We think that your groom and groom's party suit fitting should be an immersive experience as your important day looms on the horizon, and what better way to enjoy it than to come to Walters either on your own (with no distractions from other well intended friends offering their opinions) or with your extended bridal party and see first hand our beautiful suits and fabrics that are so pleasing to the eye!
We can cater for single bookings or much larger and elaborate affairs, and have worked with wedding planners across the globe which we think reiterates our claim of being adaptable, and providing for every eventuality – we take great pride in our service.
The wedding market is very fashion orientated, so when a member of the royal family gets married the trend for that year tends to move to the classic tailcoats, or when a celebrity wears a bright blue slim cut suit we'll notice a shift to that style becomes more popular. However, as we keep abreast of the latest vogue, we are always ready for whatever your preference when you come to Walters and will accommodate accordingly with great pleasure.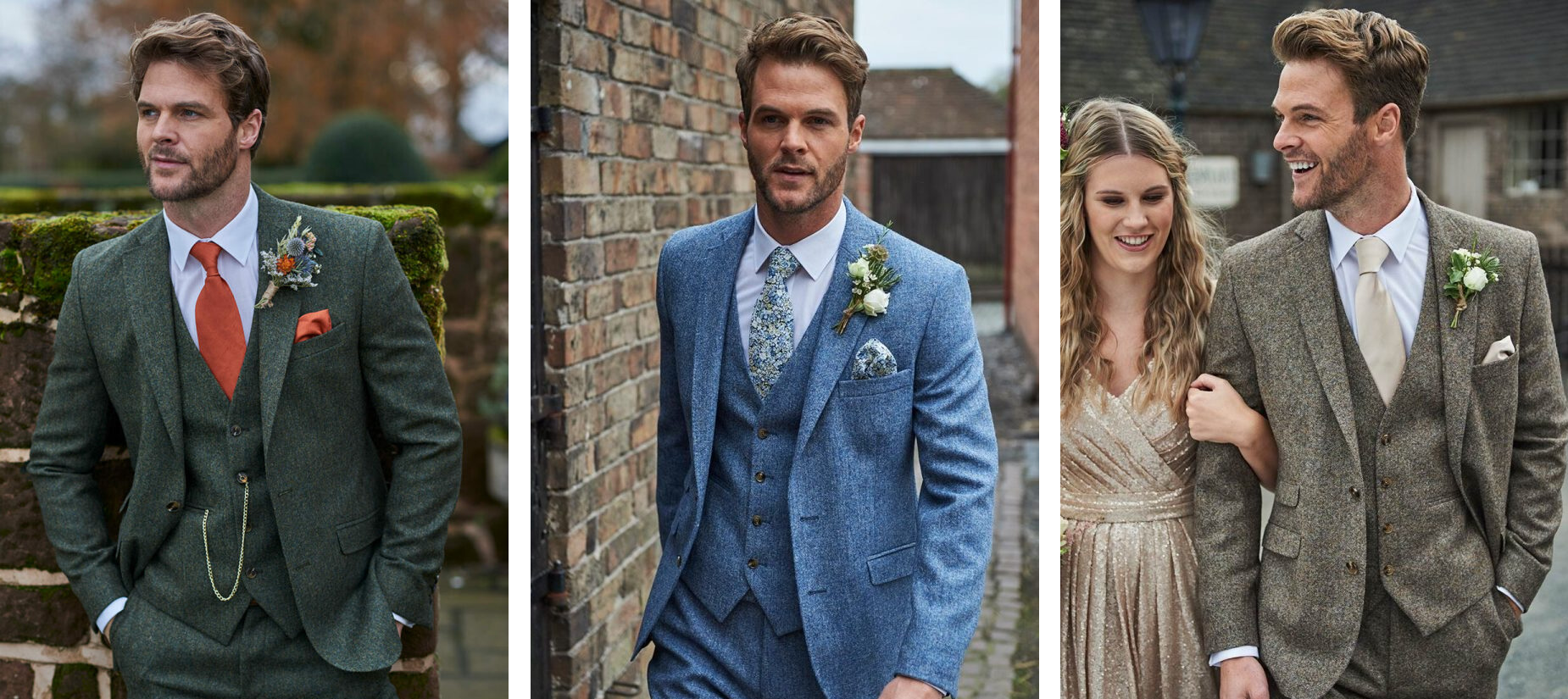 How do I go about purchasing the perfect suit for my big day?
If you are after something quite specific, we would be thrilled to offer you our made-to-measure service in store. (please email tom.shirley@walters-oxford.co.uk for information on this service).
Tom can offer some exquisite fabrics from various mills based here in the UK namely Porter & Harding, Dugdale and Harrisons to name just a few.
Various cloths are available to help you create the suit of your dreams, choose from linen in a whole rainbow of colours for that Summer wedding or tweed for a country/contemporary look, don't take our word for it call in to see the whole range available to you, you WILL be impressed.
What is our claim to fame?
At Walters we have supplied outfits for TV shows such as 'A League of Their Own' and the occasional movie or photoshoot. In many cases we can turn outfits around very quickly and we are ready and 'on the ball' whenever the need should arise!
In summary, service is our top priority, and we believe you will receive 'second to none' treatment as you come and shop here at Walters for all your 'formal wear' needs! We look forward to warmly receiving you!